Flaming Gorge Reservoir
Flaming Gorge Reservoir rests between Wyoming and Utah.  The reservoir is know for its fishing, boating, skiing and camping experiences.  Fishing is also very good for rainbows, brown trout, kokanee salmon and smallmouth bass.  Petroglyphs (rock art) and artifacts suggest that Fremont Indians hunted game near Flaming Gorge for many centuries. Later, the Comanche, Shoshoni, and Ute tribes
The reservoir provides varied recreational activities such as powerboating, waterskiing, camping, parasailing, rafting, swimming and fishing from boats or shore. The lake is famous for its trophy trout fishing (up to 40 pounds/18kg), and for the beautiful red rock mountains rising around it. Below the lake, the Green River is renowned for trout fishing and rafting. Neither a permit nor a commercial guide are required for rafting, and rented rafts are available nearby. The recreation area also offers many campgrounds and hiking areas. The trails wind through meadows, tree-covered slopes, and mountain peaks above timberline. The five-mile Canyon Rim Trail is accessible from the Greendale Overlook, Skull Creek Campground, or Greens Lake Campground.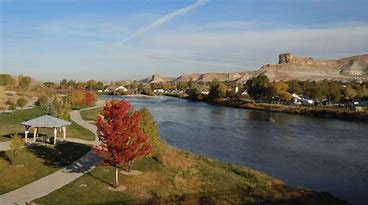 Green River
John Wesley Powell recognized the beauty of Green River in 1869 on his way south to the splendor of the Grand Canyon. But today, Green River is a recreational hot spot, offering both indoor and outdoor fun year-round and a chance to see Wyoming's diverse wildlife. Enjoyed by go-getters and naturalists alike, the area's natural beauty is carefully preserved in public lands with many trails, parks and rock formations to enjoy.
Wild Horse Scenic Loop
The Pilot Butte Wild Horse Scenic Loop tour allows you to take full control of your wild horse viewing experience. This self-guided tour can begin in Rock Springs or Green River, Wyoming; it takes about 1.5 hours to travel across the 24 miles of gravel road. On this stretch of breathtaking beauty, you will spot an abundance of wildlife – wild horses, desert elk, rabbits, coyotes, hawks, eagles and more. Wildlife is best visible in the early morning or late afternoon, though the vistas and overlooks are always in full view.